Summary
Just the important information.
This project saw myself and the team I worked with go from problem definition, all the way to a working digital prototype. The project was built around the CHI (Conference on Human Factors in Computing Systems) 2017 student design challenge. This challenge encouraged students to work on design problems that would help communities which often do not benefit equally from technological advances. We decided to target local art communities, since this could help benefit artists, art lovers, and those who want to engage in meaningful ways with their local communities. The problem we identified that we wanted to try and solve for this community was low engagement. That is, we wanted to enable more people to easily find and interact with the art in their communities.
To solve this problem, we decided that a mobile application that allows interested people to see what art is around would be the basis of our solution. Our process for coming to this solution included many ideation exercises, including:
Ideation
• Problem Statement Creation
• Competitive Analysis
Lo-Fi
• Sketches and Storyboards
• Personas and Scenarios
• Design Space Analysis
• Paper Prototype
Hi-Fi
• Digital Prototype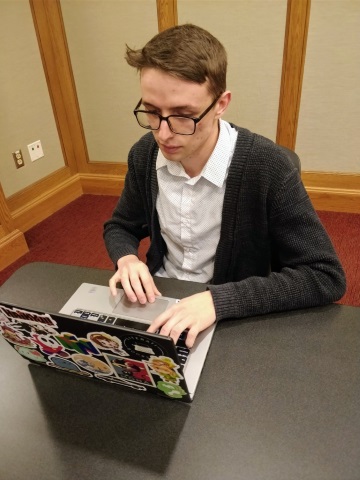 A snapshot of me testing our digital prototype.
One Takeaway
I believe the most valuable thing I learned while working on this project was how to work together with a team to identify and define a problem. We were given great freedom to explore any problem related to the design challenge's prompt, so ensuring that our project had direction and structure required us to align our understanding of the problem with discussions and ultimately voting. We encountered many conflicting ideas about what the problem and project should be, but I believe these passionate debates ultimately led to the high level of focus the rest of our project maintained.